Submitted by Total Clarity Wealth Management, Inc. on September 4th, 2020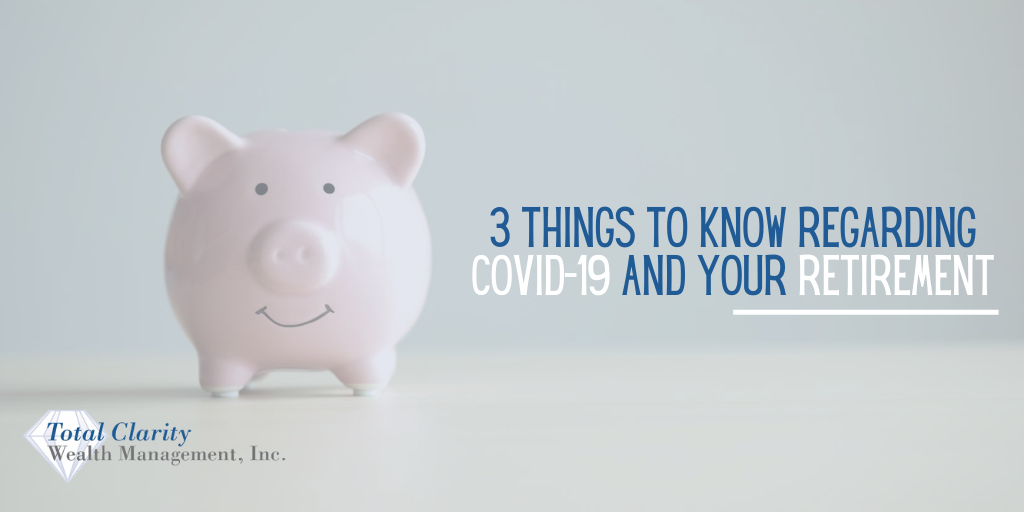 3 Things to Know Regarding COVID-19 and Your Retirement
We all know that the coronavirus pandemic has thrown us for a loop emotionally, physically, and financially. Working from home has become the new normal, restaurants are slowly starting to reopen for indoor dining, and businesses everywhere are still trying to make ends meet and stay afloat. Not only has the pandemic created a new way of life for most Americans, but the pandemic has caused a lot of worry for Americans, especially regarding their retirement plans. In this blog, we are going to go over three of the most important things to know about how the COVID-19 pandemic has affected your retirement. Keep reading!
Social Security Won't Cover All of Your Retirement
Now, it is a common belief that Social Security will cover you in retirement, however, this is not true. Social Security can help you pay for things in retirement, but especially with the current status of the pandemic, it will not cover all of your retirement, just some. In fact, Social Security "never designed to do this, and with a possible benefit cut on the horizon, it's safer to rely upon your personal savings for the bulk of your retirement expenses," (Fox Business).
You May Retire Later Than You Expected
With the amount of people in our country losing their jobs or being furloughed, you may have realized that you might be working longer than you had anticipated. If you were planning to take out retirement funds early, you may want to reevaluate, as delaying retirement could mean more money for you once you actually reach your full retirement age, which varies depending on the year you were born. You can find use this website to determine your full retirement age here.