Submitted by Total Clarity Wealth Management, Inc. on March 18th, 2021

March 1, 2021
HERE COMES THE EARNINGS BOOM
Jeffrey Buchbinder, CFA, Equity Strategist, LPL Financial
Ryan Detrick, CMT, Chief Market Strategist, LPL Financial
Fourth-quarter earnings season is in the home stretch, and it's been a good one. After raising our 2021 earnings forecast for the S&P 500 Index in our Weekly Market Commentary on February 8, our upgraded forecast may now be too low, based on what we have learned from corporate America during the three weeks since. In this commentary, we recap earnings season and share our latest thoughts on just how strong the earnings rebound could be in 2021 and beyond.
OUTSTANDING NUMBERS IN THE FOURTH QUARTER
Coming into fourth-quarter earnings season, investors had plenty of reasons to expect that companies would deliver better-than-expected results. The US economy grew at a solid 4% annualized pace in the fourth quarter (source: Bureau of Economic Analysis GDP data). Strong manufacturing surveys signaled better earnings ahead. Analysts' earnings estimates rose during the quarter, as companies issuing fourth-quarter guidance mostly raised expectations.
Now that all the numbers are pretty much in the books (93% of S&P 500 companies have reported results), it's clear that optimism was warranted as earnings impressively grew during the quarter [Figure 1].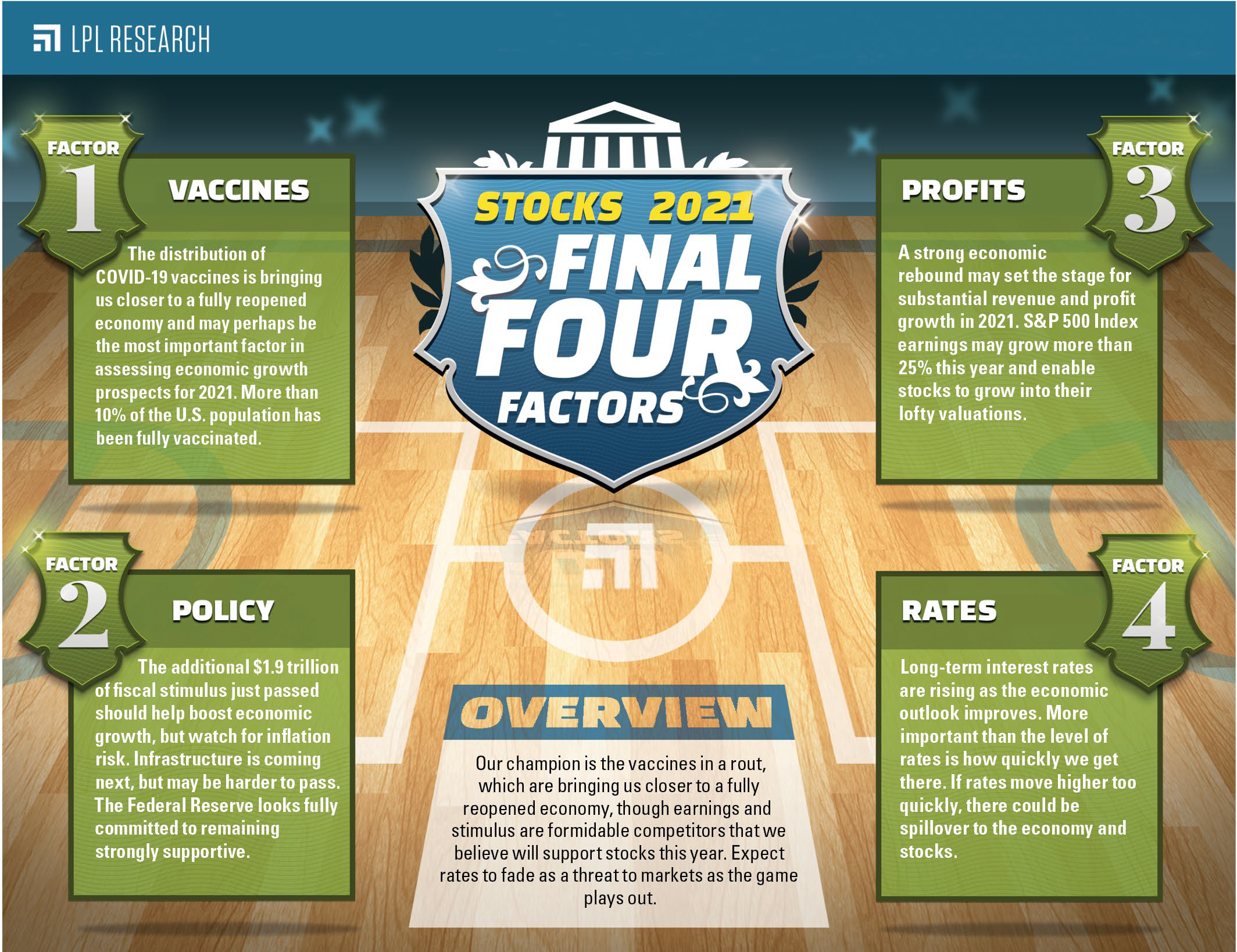 In our earnings preview on January 19, 2021, we wrote:
Consider that the bar has been raised substantially over the past two quarters, making it tougher to clear. That probably takes positive earnings growth off the table, but a low-to-mid single digit decline in earnings would be a positive outcome, especially if forward estimates hold up as fresh guidance is provided.
After the bar had been raised, with the prior two quarters following similarly strong results compared to expectations, it made a lot of sense to expect more limited upside as estimates catch up to reality. But it turned out another quarter of huge upside—and earnings growth—was in the cards as corporate America again blew by expectations. S&P 500 companies delivered more earnings during the still-pandemic plagued Q4 2020 than in (pre-pandemic) Q4 2019.
Here are the impressive numbers:
•Fourth-quarter earnings growth for the S&P 500 is tracking to 3.5%, more than 12 percentage points above the consensus estimate at quarter-end (December 31, 2020).
•A near-record 79% of S&P 500 companies have exceeded earnings estimates, above the five-year average of 74%.
•Five sectors grew their earnings by double-digits: communication services, financials, healthcare, materials, and information technology.
•Sales for S&P 500 companies in aggregate impressively rose more than 3% year over year.
•During earnings season, the consensus earnings estimate for the next 12 months rose 4%, compared with the average 2-3% reduction historically.
All earnings data is sourced from Fact Set
These results were particularly impressive given the wave of COVID-19 that brought some new targeted restrictions late last year.