Every Dollar Counts... Which Sneaky Business Expenses Can You Reduce?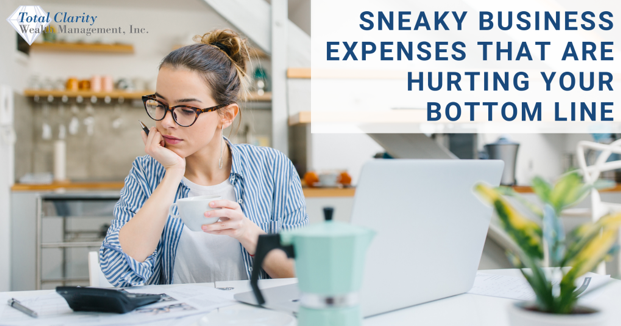 Every dollar counts in business, especially for small business owners. You may be very aware of your regular expenses such as office space rent and supplies, but you may not see all the small business expenses on your banking statements. There are several different sneaky business expenses that are hurting your business's bottom line.
Transaction Fees
Credit card processing fees can eat up your revenue tremendously over time. While you may think it is only a small percentage at a time, over the course of a year it can add up to hundreds, even thousands of dollars. Depending on your website provider and point of sale system, your credit card processing fee can vary from 1 to 4%. The amount of the fee also depends on the credit card companies, some of which cost more than others like American Express. Keep an eye out for transaction fees and see if you can find other options to reduce this expense.
Subscriptions
The same way in your personal life, you're bound to have subscriptions that go unused. You may have multiple software subscriptions that serve the same purpose that you are all paying for. As a small business, subscription fees can be the difference between a profit and loss. Perform an audit of all the different subscription services you are paying for to determine which ones you should keep and which ones you should cancel. Regularly perform this audit to put money back into your business's pocket.
Unproductive Marketing
Marketing is not cheap; if your marketing dollars are not going to good use, it's better to cut the expense. To be effective, you need to have targeted campaigns that bring in sales. The best way to prevent wasting marketing budget is by outsourcing your marketing to an experienced and qualified agency.
Unnecessary Employees
Wages, benefits, and the associated taxes of staff can be costly. You also must consider the cost of hiring, training, and management of employees. Instead of hiring full time or part time employees for certain tasks and projects, consider using freelancers and independent contractors. You could also outsource tasks to different companies such as a phone service to take your phone messages.
Technology
You often do not need the newest, top of the line technology. Constantly upgrading your technology can be a massive expense with little reward and improvement. Instead, understand your technology needs and upgrade when necessary. However, it is also important to know when you do need to upgrade your technology. Old technology can continue to break, causing costly repairs. You may also be paying for additional technology to compensate for the lack of efficient and helpful tech. Staying aware of you and your business's technological needs will be helpful for your business's expenses, productivity, and efficiency.
Digging through all of your expenses to identify problem areas can be difficult while you are still trying to run your business day to day. Take advantage of business planning services offered by Total Clarity Wealth Management. Our knowledgeable and experienced advisors are here to support you and your business. Schedule a consultation with us today.
Sources:
https://ignitetech.com/about/blogs/how-unseen-costs-are-hurting-your-businesss-bottom-line
https://www.uschamber.com/co/run/finance/small-costs-that-add-up
https://quickbooks.intuit.com/r/expenses/dont-waste-your-money-7-overspending-traps-small-businesses-need-to-avoid/
Securities offered through LPL Financial, member FINRA/SIPC.  Investment advice offered through Total Clarity Wealth Management, Inc., a registered investment advisor and separate entity from LPL Financial.